We curate, you shop.
An old bungalow turned into a contemporary showroom in one of the world's most beautiful cities and that too, just a walk away from the lakeside – is quite a story. To add to the delight, we work with some of the most creative craftsmen of Rajasthan and exhibit their works in the Indune Store – brick and mortar of our dream. From when we started the store in 2013 and until now, when someone walks in – admiring this trove of treasures – we smile like it's our first customer. From tastemakers to gift-seekers; thoughtful tourists to city's dwellers, a conscious audience visit us day-to-day. Their evolving taste and love for fair trade inspires us to create. We invite you to take a tour, admire to your heart's content, and delve into the works of artisans who strive to preserve the wonderful crafts of India through skill and love.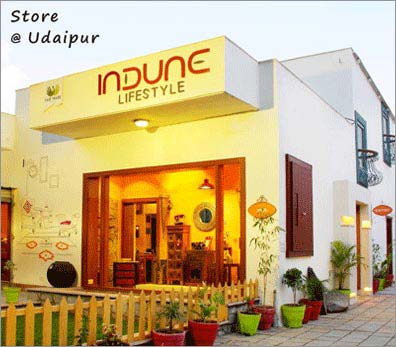 Are you planning to visit Indune in Udaipur?
We believe in the word of mouth recommendations and social media interactions for footfall. However, as we do not encourage commission (payouts), you may find it difficult to convince your taxi driver or travel guide to bring you to our store. They may advise you on 'better' options instead, and possible places where they would get paid a sum of money in return for taking you shopping.
If you come across any statements which seem misleading or sound like excuses, please cross-check with us.
You can call us at 98290 58612 (10 AM to 7 PM)
178, Moti Magri, Near UIT Circle, Udaipur.